Volunteers & Goshen Local Schools PTO
Goshen is very fortunate to have a vibrant PTO organization, providing hours of volunteer help and raising funds to enrich our students' school experience. Look at all they do for our schools over the course of the school year (list below).
Interested in volunteering? Let us know.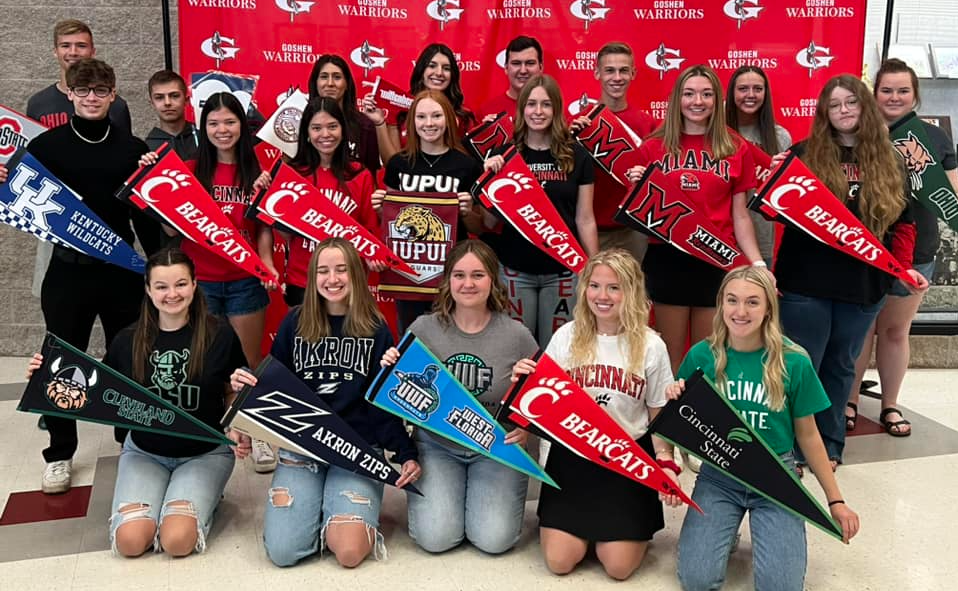 Marr/Cook Elementary
Student of the Month Breakfasts

Parent Teacher Conference Dinners

Warrior Walk

Fall Carnival

Cookies with Santa (purchased backdrop for stage and set up)

Teacher Appreciation Day

Secretary Day

Kindergarten registration help Kindergarten Phase In Days/Welcome T-shirt fundraiser
Goshen Middle School
Student of the Month Breakfasts

Parent Teacher Conference Dinners

Mother/Son Event

Map Testing Volunteers

Food Pantry Monthly Drive

Father/Daughter Dance

Secretary Day

Picture Day Volunteers

Warrior Walk

Picture Day

T-shirt Fundraiser

Warrior Walk Snowball Dance Luau

Teacher Appreciation Day

Secretary Day

Spookfest
Spaulding Elementary
Parent Teacher Conference Dinners

Giving Tree Gifts Purchased

Purchased "I Survived" books for 4th grade classes

Mother Son Event

Donuts with Dad

Author Night

Muffins with Mom

Father Daughter Dance

Teacher Appreciation Day
Goshen High School
Donation for Caps & Gowns for students with financial need.

2 Scholarships ($1000 each) to 2 graduating seniors

Goshen Music Boosters (Trophy sponsorship for Marching Band Competition in September)

Parent Teacher Conference Dinners

After Prom Donation and Volunteers

Teacher Appreciation Day

Earth Day Booth

Clinic Supplies

Monthly food pantry drive

Spirit Wear Sales

Senior Yard Signs